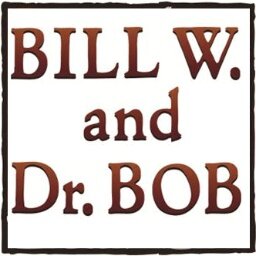 BILL W. AND DR. BOB this weekend hit its 6 month, 150th performance,  It seems that this makes it the longest running non-musical/comedy Off Broadway. But it hasn't been easy.
When the Off Broadway show closed on June 10, 2007 after a 4-month run, I turned to Janet and said, "Someday we'll bring it back to Off Broadway the way we dreamed of."  The 2007 show was a commercial venture, with a huge amount of money raised from investors, and huge expenses, in a 350-seat theatre.  When summer came, the investors closed it down.
For 6 years it traveled around the country and parts of the world, to 40 states, often to sold-out houses and record-breaking runs—because in addition to the normal theatre audience it attracted those in recovery.
Now we have fulfilled that dream.  It is in a small intimate theatre.   There are no investors in this production.  It is funded entirely by tax-exempt donations to Hazelden Treatment Center Foundation.  All proceeds go to a national college and med school  tour to deal with the epidemic of binge drinking on campus.  I bet that if we had again done it with investors, they might have closed us down after a few weeks.  Because no money is being made, we have enough money to keep running.  And this time around our mission is not profit, but doing service to the recovery community–as Dr. Bob says: "Service—giving of ourselves—keeps us sober." 
As reviews and those of you who have seen the show have written on Facebook etc, it is a gem—the best production we've seen in our 27 years with this play.
But it is not easy.  The first crisis was with ticket sales that were below expectations.  We tried everything, and I found myself obsessed with numbers, and dollars, and how to increase them.  I was getting hard to live with—and had two minor car accidents, and Janet tripped on one of our dogs and almost broke her hip.  We were not doing well.
And then I managed to raise enough donations to keep us going for several months.  I thought I was through with the crisis.
But one day I got a call from the stage manager, saying that the actors were upset that their dear play was being performed to small audiences on Tuesdays and Wednesdays.  A few of them were thinking of not continuing.  As I said to Janet: "Oops. Guess what?  To do a play you need not just money, but actors."  We called an emergency company meeting, and cut those two days.  But we still, on some performances, had a number of vacant seats in the 187-seat Soho Playhouse.  What to do?
I called up a woman at a New York City Community Recovery Canter in Brooklyn/Bronx.  She had brought a group of 30 to a performance in July, and it was a spectacular, responsive audience.  Many of them had never been at a live theatre event before.  I asked the woman if she might want to bring another group, for reduced-price tickets like the first time.
"No, our funding is cut.  We have no money for that at all."
And here's the moment of clarity: I heard a little voice inside say, "You're not doing this to sell tickets, you're doing it to do service."
"Well then," I said, "if I gave you 45 free tickets for two performances next week, could you bring people?"
"I can fill those seats tomorrow."
And that started a turnabout in how we can fulfill our mission—to Celebrate Recovery, Educate the public, and Outreach to those in recovery and their families and friends
Janet and I as co-producers decided that we would give away 45 free ticket (25% of our seats) at every performance to those who cannot afford the price of a ticket. . We have a network of people who every week, call their community members or those at their meetings, and offer free tickets.  It just takes a call to the box office to reserve them.
These are the greatest, most responsive audiences we have!  We have people with no money sitting next to people in the most expensive seats. Both of them laugh hard, fall into silence the same places, shed tears, and, at the end of the show, rise to their feet in a standing ovation—and walk out inspired.  It's that kind of show.  More than a good show—a show that goes good.
And you know what?  The people in the free seats seem to be the ones that, more often than not, put some spare change or even a dollar bill into the "Donation Box" in the lobby.
This is our vision.    
Thank you!
Samuel Shem